For anyone who has seen Young Frankenstein, I am afraid that somehow, (I'm pretty sure it was during one of my epidurals) I was given young Abby Normal's brain.
Sarah had her preschool party today, and it was a hoot. I took my camera in my purse so I could get plenty of pictures to share, and while we were there one of the other moms took pictures, we talked about blogs, and I didn't think about my camera until we were home and I put my purse on the counter and thought "Oh, I should put the camera away."
Who does that?
Oh well!
The party was darling! The kids made Q-Tip skeletons: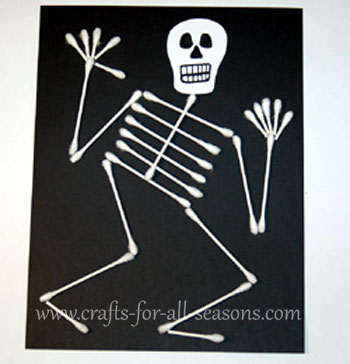 played "boo-sical chairs" made the famous ghost suckers, played spider toss (I bought it on clearance from Pottery Barn Kids & it's really cute) had toilet paper mummy races, and ate hot dog mummies
and peanut butter eyeballs--you can use the "Peanut Butter Egg" recipe I posted earlier and just dip them in white chocolate instead of milk & frost on the eyes.
I have to give a big thanks to everyone who made the party so darling--It really was fun! (and I plan on reusing many of these for the party on Friday, so don't expect much different entertainment--but maybe I'll remember to take pictures!!!)